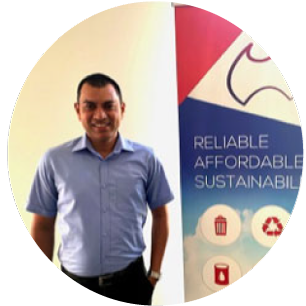 Aslam Assen (Area Sales Manager) has over 25 years of experience in shipping, logistics, garment accessories and recycling. Aslam spent ten years working in the waste management recycling sector in Sri Lanka heading the Sales Department as Sales Manager. Key roles, including strategy management, operations, and transport within the recycling industry. Aslam completed his last four years as CEO for Neptune Recycling Pty, the No. 1 paper recycling company in Sri Lanka, before migrating to Australia.
After settling in with his family to a new life in Melbourne, Aslam secured employment as an Account Manager for five years within the waste management recycling industry, where he applied his wealth of knowledge and experience & adapted to the current market place in Melbourne Victoria.
Aslam brings excellent experience & knowledge across our waste & recycling solutions & will be managing all sales-related enquiries across South East areas of Victoria.
What do you enjoy most about working at BWS, Aslam's, reply: "Working so well together as a team."